Granite Trends
Glass Tile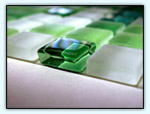 Styles vary with regions. Customers nationwide want traditional sizes of tile but also want a one of a kind concept. In Southern California people want tumbled stone backsplashes mixed with glass accents. Small critter accents such as seahosrses or starfish are popular in coastal towns along with glass tiles. We are also seeing a lot of stone and ceramic combinations.
Outdoor Kitchens
Outdoor kitchens are becoming more and more popular . They are great for entertaining in your home and are a great landscape feature for your home that will add long-term value. Granite's natural look hides dirt and spots and cleaning is easy, so Granite countertops have become an extremely popular for outdoor kitchens. Nesting is the new flipping, and upgrading your home has never been easier.
Visit our outdoor services gallery to see how we can transform your home with an outdoor kitchen and Granite pavers.
Granite Pavers
Natural Stone has a low impact on the enviornment. There are no chemicals used in the mining process and there is no toxic waste produced. For these reasons Natural Stone is used in many projects that have LEED certification. This program is designed by the U.S. Green Building Council, who sets construction guidelines for energy efficient buildings. An estimated half billion tons of Granite scrap are hauled away to land fills, however, and, on average, 30% of each Granite slab is discarded as waste. Luxor Tile & Stone is the only Georgia Fabricator that is turning this waste into an inovative product that reduces the negative enviornmental impact. Our innovative equipment transforms the Granite into different shapes that can be used as Pavers and Tiles.
---
---
---
---
Our Showroom



---
---